I guess it was last year, the gnarly looking Count Dankula who's real name Mark Meecham made it somewhat viral teaching the Roman or "Nazi" salute to his girlfriend's pug.
As it turns out, in The U.K., if you do that, you're going to be brought up on charges. It's not a good time. Meecham was convicted about a month ago. His sentencing was today, 4/23/18. For the crime of teaching a pug ebil new tricks, according to SkyNews Meecham…
was found guilty of posting material that was "grossly offensive, anti-Semitic and racist"
The guy is not getting locked up. I wish he was. For those of you who don't know, he's a comedian. He can definitely talk. I don't want to see his face around trying to turn up scratch. Unlike the Alt Right comedy stylings of Sam Hyde (linked below), Meecham is a degenerate:
Why the Fuck Would You Wanna Look Like This:
He Also Has a Commie Tattoo: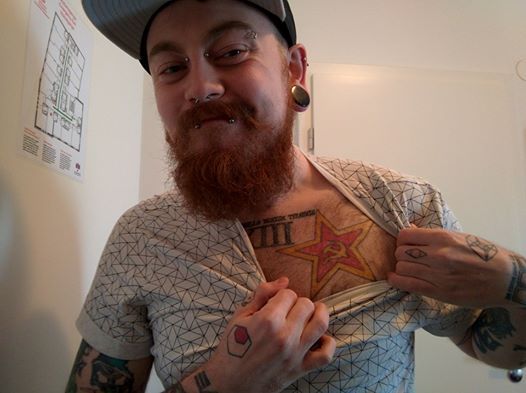 :
What It Is
Unfortunately, I'm not getting my way. I hope though, after his sentencing, he fizzles out and we don't see him again until he announces he has AIDS or something. Something shitty.
In the wind up again, according to SkyNews, the…
man has been fined £800 after he posted footage on YouTube of a pet dog giving Nazi salutes…
Right now, 800 pounds is equal to about $1115.
At the trial, the prosecutors tried to make him out to be a master propagandist. Maybe that argument helped convict Meecham. Either way, I would still not recommend his comedy or him for matter.
Note: Sieg Heil means Hail Victory and was the common slogan shouted or enunciated along with the German version of the Roman Salute.
Sam Hyde(hidden cut):