Yeah we should relocate. Have you considered San Francisco? You're worried about human feces in the streets along with the needles? No one is saying Frisco doesn't have some drawbacks. Every "City of the World" does. Do you know what San Francisco does have? It has famous hills, the Bay and trolley cars to say the least.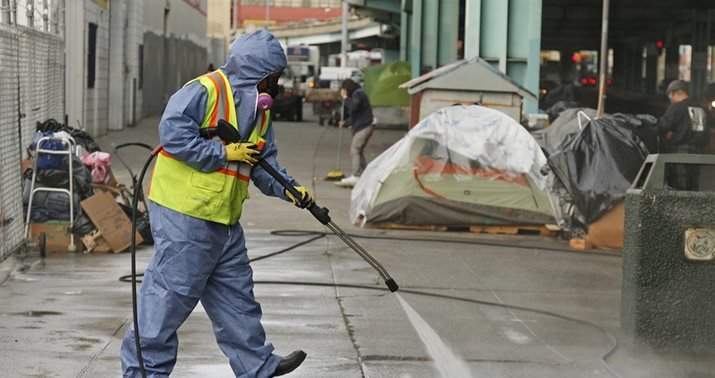 You mentioned the poo was an issue already. Yes, the needles too. What if I told you the new Mayor has declared a war on poo. No, I'm serious. Check it, FOX News just reported:
The "Poop Patrol" – part of the city's Pit Stop program which provides staffed public toilets around the downtown areas – will begin patrolling the alleys around Polk Street and other hot spots in a vehicle equipped with a steam cleaner.
Yeah, steam is hot and it might make things smell worse. No. Okay. Look I think we should just trust the city on this steam cleaning thing. They're putting a lot of money into it:
Department of Public Works director Mohammed Nuru said the city will spend about $750,000 to search for and clean up human waste.
I really don't think their protocol is going to be to blow the poo away in clouds…
I mean really, there aren't even that many homeless people in Frisco anyway. Trust me,
Out of the 7,499 homeless people recorded last year, about 58 percent, or 4,353 people, were marked as unsheltered. The other 3,146 were designated sheltered.
For a city, those numbers don't sound that high. Gnomesayin?
Trust me, people probably aren't even pooping in the area around that house we saw on Vice.com Remember, the house is hip af and the price was already cut:
The property now is on the market for sale, it started at $10.5 million, and it's now down to $8.5 million.
No, that's not a bad sign. The seller is a strung out old eccentric and, it's been on the market for…
Six months at least. This house has six bedrooms and six bathrooms. You'd need a large family to use those accommodations.
I'm serious, we should get this house. No, we both know Frisco is great. Look, we came up with those "Hi, I'm a PC and Hi, I'm a Mac" commercials. No, we're still hip af. Just don't go talking about the poop unless someone talks to you about it first.
Really Bae, even if we have to sell, we can take a loss of a Mill or two. No, we're not going to go swimming on the beaches. Look, we'll probably make money on this deal. San Franciso is great and will always be great.
No, we can't live in the country, we're part of the #resistance…
That's what I mean. I'll call the agent.